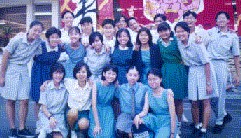 Orientation Group S12
This is a photo of my OG. I was in a borrowed NJ uniform because I was singing in the NJ choir for the Chinese New Year celebrations, NOT because I was eager to relinquish the comfy MGS uniform for the waterproof NJ one with epaulet rings that rust and scratch your shoulders.
S18, my class in the first 3 months
I took Physics in my first 3 months in JC, and so I was posted to S18. Had great fun.
The "last supper" with s18
We were at King Albert Park Mac's about to partake a last meal together before collecting the "O" level results the next day.
S22, my class
I decided to drop Physics and do Econs instead, so I ended up in S22. I'm in the last row, fourth from right. Had gotten a very short haircut, and resembled tweety bird.
---
Friends / Inner circle / MGS photo gallery / NJC photo gallery / Law School photo gallery