"Mad about Hollywood": Law Camp 1998-1999
The Universal Studios' Mafia Station.  
Law School's last float: Rag & Flag 1998-99
This is part of our castle for Rag & Flag Day, made of papier mache, chickenwire, rope, bamboo and wooden poles.  
Midnight tin can collecting: Rag & Flag 1998-99
Thanks to me and Kai's expert strategizing and management and the hard work and co-operation of the seniors and juniors alike, Law School raised a cool $20,000 for charity, quadrupling previous years' collections.  
The Rag & Flag Senior and Junior Committees 1998-1999
After the weeks and months of hard work for Rag & Flag, we went to Marche Movenpick for a good celebratory meal.  
"It's about Time..." Law Camp 1999-2000
Here are all the Ravens under the charge of B2-bomber Ivan and Ladyhawk Celia.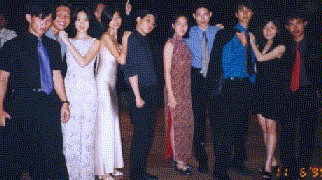 The Law Camp Committee 1999-2000
Striking 007-poses at the Law Camp Formal Dinner.  
Twelfth Night! Law 4 Production
Here we are helping out with the Front-of-House at Jubilee Hall.
---
Friends / Inner circle / MGS photo gallery / NJC photo gallery / Law School photo gallery